Quick Links:
What started as a free classified listing publication back in 1992 has grown into one of the biggest online marketplaces in South Africa today. The original King of Classifieds then introduced their online offering in 1998 and pioneered the digital classifieds landscape. This iconic South African brand has been a stable resource for buyers and sellers for well over 25 years and continues to grow to this day.
Over the years, Junk Mail has seen its fair share of competition from international competitors who wanted a stake in the South African market. With bigger budgets and backing from European corporates, these companies have done all they can to take over the local market. However, in true South African fashion, the Junk Mail brand has retained its position as the leading South African online marketplace.

What is Junk Mail?
Junk Mail is an online marketplace that allows buyers and sellers to connect, with the ultimate outcome being a successful exchange of goods or services. Our digital landscape has eliminated the many barriers to purchase that would have been experienced by buyers and sellers pre WWW (the internet). In this day and age, it is easier to manage and facilitate a transaction between a buyer and seller because of the internet, as well as the host of delivery services offered by many great local logistics companies.
What's great about Junk Mail is that it is completely FREE for buyers and sellers to use. If you have something you want to sell, then our online marketplace is for you! With nearly two million unique visitors a month, we have a constant stream of potential buyers who use our website to find the things they are looking for.
Another great feature is that our site is also geared for traders who would prefer to SWOP or simply GIVE AWAY their things. We understand the plight of the average South African, so we have created a way for people to help each other out.
What will I find on Junk Mail?
The simple answer to this question is ANYTHING AND EVERYTHING. The Junk Mail marketplace has it all. When you land on our marketplace home page, you will be presented with an array of listings and market categories to choose from.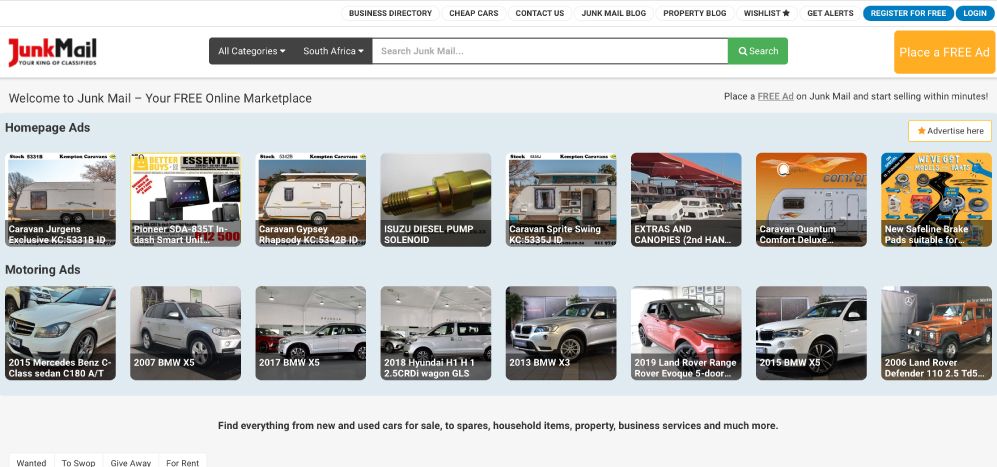 Our homepage is the gateway to the following sections on our website:
Place a FREE advert: List your products, items, or services and get them into our online marketplace.
Register: Register for FREE as a business or private seller
Login: Access your account, maintain your information and track your listings' performance.
Search navigation: Simply type in what you are looking for and hit search, the site will do the rest and present you with the results that match your search terms.
Our most popular categories: These are the categories that get the most user traffic and indicate what's hot in the world of buying and selling.
The latest adverts in our most popular categories: View the most recent adverts in the categories that have the most listings
Business Directory: Find companies that have a business listing profile on our website. These are the businesses that use our website as a key marketing tool.
Cheap Cars: Vehicles that are listed below the current vehicle market pricing norms. Find the car you want at a below-market value price. You will also find cars that are selling as "voetstoots", meaning they come as they are. Terms and conditions apply.
Contact us: Need to chat or have questions related to listings or buying and selling? Drop us a line and one of our reliable team members will be there to assist.
Our blog: Read the latest news, advice, and stories from the world of Junk Mail.
Wishlist: Once you've registered as a user or business on the site, you can create a wishlist for the items you are interested in.
Get Alerts: Get notified by email when your item of interest is advertised on Junk Mail.
How do I search for items or services on Junk Mail as a buyer?
The marketplace search journey is simple. Our website has been designed to make buying and selling easy. Search our top categories listed on our home page or use our navigation tool at the top of our website to find what you are looking for.
Simply select the category you want to search in, followed by the region you are in or want to look in. You can also add a keyword to our search bar if you have something specific you are looking to find.
When you search for specific keywords, you can use our search filters to refine your search even more.
How do I place an advert on Junk Mail?
Click on the "Place a FREE ad" button that is located on the Junk Mail navigation bar.
Once you are on the page, you will need to provide your contact details by completing a few mandatory fields in our advert placement form.
Then, you will need to confirm if you are selling as a business or as a private seller.
From there you, the seller, will have to select the category your product/service falls in. You will then need to complete the process by providing all the relevant information, images, and description related to your product/service.
Remember, the more information you provide on an advert, the higher the chances of a successful sale. Buyers would prefer more information than less.
Select the region you are selling your product or service in.
Submit your advert.
It's that easy!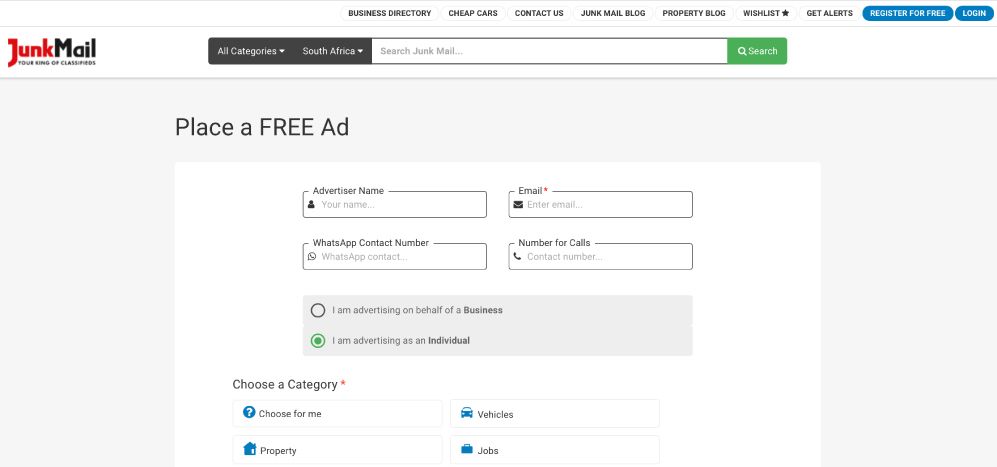 Can I promote my adverts on Junk Mail?
Yes, you can! Users who want to get greater exposure and promote their adverts on our site can do so by taking one or all of the following advert promotion products.
Home Page Gallery Adverts: Place your adverts in the best location on our entire site, the Home Page. You can showcase your listing to hundreds of thousands of users and get up to five times the visibility!
Top Ads: These ads appear in the top five ad slots above the regular ads in search results and are viewed on average 19.43% more than regular ads. The placement of these ads is category, region, and keyword specific, which gives your ad maximum search visibility to your target audience.
Gallery Ads: Feature your listing in the gallery section on the search results page, above the top ads section. Similar to top ads, the gallery ads are category, region, and keyword specific and will rotate with other adverts.
Read how to promote your adverts here
Why should I register as a Private Seller on Junk Mail?
Below are some of the key reasons why registering as a private seller on the Junk Mail marketplace will benefit you:
With a Junk Mail account, any person can buy and sell!
You can also repeat, edit and up-sell your ads.
Have all the contact details of interested parties in one user-friendly interface.
You can update your details anytime, day or night!
You decide how you want buyers to contact you.
Why should I register my Business on Junk Mail?
Below are some of the key reasons why registering as a Business on the Junk Mail marketplace will benefit you as a seller:
Grow your business by selling more products or services faster.
Manage your ads easily and on the go.
Have an array of up-sell options available to sell even more on Junk Mail.
Have all the contact details of interested parties in one user-friendly interface.
You can update your business details anytime, day or night!
You decide how you want buyers to contact you.
What are the key categories on Junk Mail?
The scope of categories covered in our online marketplace is vast. Junk Mail is home to thirty-nine main product categories with each category made up of several subcategories that are related to the main category. Below is a list of the thirty-nine categories we have in our marketplace and a basic overview of what users can buy and sell in the subcategories.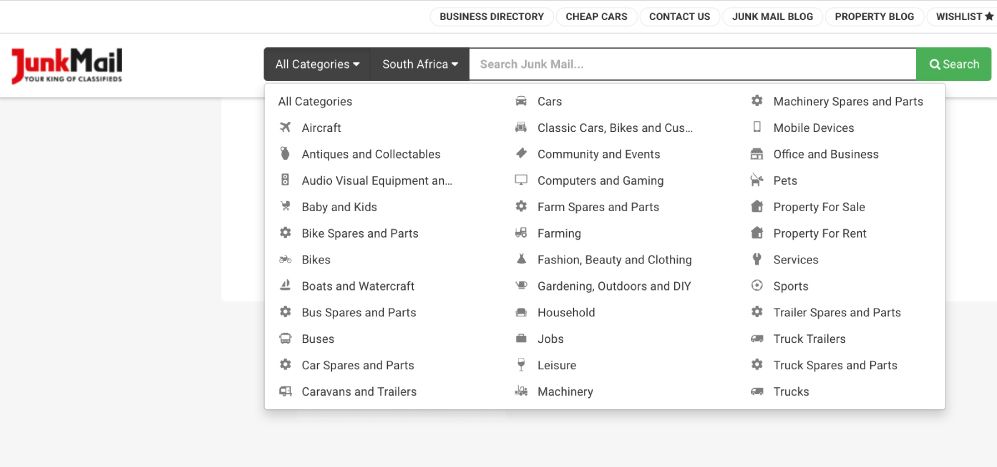 Is Junk Mail Safe?
Our goal at Junk Mail is to connect buyers and sellers and to promote safe trading. Junk Mail is an open marketplace and unfortunately, from time to time, there are unscrupulous sellers and buyers who use the site. But we do all we can to ensure safe trading and most of our marketplace transactions happen hassle-free.
At the end of the day, it is the buyer/seller's responsibility to make sure that they are not taken advantage of by following our tips to safe trading and by ensuring that when people are performing a trade, they are comfortable and have done all the background checks they can on the respective buyers or sellers.
Click here to stay in the know by following our scam tips page
Why should I use Junk Mail?
Junk Mail was the first classified marketplace to launch in South Africa back in 1992. Six years later we launched our digital platform and over the years we have become a reliable and staple marketplace for thousands of buyers and sellers across the country.
As we continue to evolve, we are constantly adding new offerings for our audiences and customers. We are committed and proud to be a truly South African company with a uniquely South African Marketplace product offering.