Looking for ways to market your goods or services to thousands of individuals every day? Get the results you want with the help of Junk Mail Marketplace. Easily advertise your products and/or services to thousands of users from across the country.
Give your business a boost by advertising on Junk Mail Marketplace. Our online platform allows anybody to buy or sell anything from furniture, computers and gaming consoles, household items, property, cars and more! We are the ideal place to promote your business as we have millions of people visiting our website every month. So, what are you waiting for? Place a free advert on Junk Mail right now.
What is an online marketplace?
An online marketplace is an electronic platform that connects sellers to potential buyers, providing a convenient and efficient way to buy and sell products with a diverse selection from multiple sellers nationwide. It enables low-cost, flexible business opportunities without the need for a physical store.
Benefits of using Junk Mail Marketplace
For three decades, Junk Mail has excelled in delivering top-notch services to both businesses and individuals, simplifying the process of promoting their offerings through online advertising. Through Junk Mail's user-friendly interface, advertisers can easily manage their adverts and place new ones without hassle. One of the most important advantages of having a free account with Junk Mail is its convenient and quick management of your online marketing efforts.
The main advantage of Junk Mail is that it is completely free for both sellers and buyers. If you have something that you want to sell, you can easily find a buyer through our online marketplace. With over two million unique visitors every month, there is always somebody looking for something, and it might just be what you're advertising.
Let's take a look at a few benefits of using Junk Mail Marketplace to advertise your goods and services…
1. It's completely free to advertise on Junk Mail
The best thing about Junk Mail Marketplace is that it is completely free to advertise. All you need to do is to visit our free ad placement form, fill in the details, and submit your advert. It's as simple as that.
The most significant aspect of our website is its high level of interaction, which means that if your item has a good price, description, and title, it will attract a lot of attention from interested buyers. As a result, this will allow you to reach more people, increase your reach, and boost your brand's visibility.
2. Junk Mail brings buyers and sellers together
Our website has been designed to accommodate both buyers and sellers, and it has an easy-to-use layout on laptops, desktops, and mobile devices. Even with high active traffic through our website, we make use of the appropriate keywords and categories to make sure that ads are found easily by users who are specifically looking for them. Being a part of a marketplace like Junk Mail allows buyers to interact directly with their potential clients or customers, which guarantees a successful interaction for both parties.
3. Ease of interaction
Marketplaces make it easy for people to interact with each other, and let's face it, it's not always the easiest task to find what you're looking for in a store. Junk Mail has made it easy for interested buyers to contact sellers, with multiple ways to get in touch with the seller, including a contact form and contact number on the advert itself.
4. Various ways to boost your advert
We have various ways to boost your advert so that you can get the maximum amount of exposure and sell your items or services quickly and easily. Here's what we have available:
Home Page Ads
Showcase your ad on our Home Page.
Promote your ad for up to one month at a time.
Get up to five times the visibility.
Top Ads
Your ad rotates in the top five ad slots of search results.
Promote your ad for up to one month at a time.
Get maximum search visibility.
Gallery Ads
Showcase your ad in the gallery section on search results.
Promote your ad for up to one month at a time.
Maximise your search visibility.
Newsletter Ads
Your ad will feature in a targeted newsletter.
Promote your ad in one or multiple newsletters.
Reach up to one million potential buyer inboxes instantly.
5. Experienced and amazing support staff
At Junk Mail Marketplace, we understand that customer satisfaction is a very important part of any service. We aim to provide the best possible support and treat our users with dignity, respect, and consideration at all times. To ensure that the needs of our users are met, we only hire experienced and talented staff members.
We have various ways to get in touch with us, including a dedicated Customer Care WhatsApp channel and a contact form.
6. For the seller, an easy-to-use dashboard
Our dashboard is designed to be user-friendly for both buyers and sellers. Here's what you will see when you access it:
My Messages
My Ads
My Alerts
Promote My Ads
My Profile
My Wishlist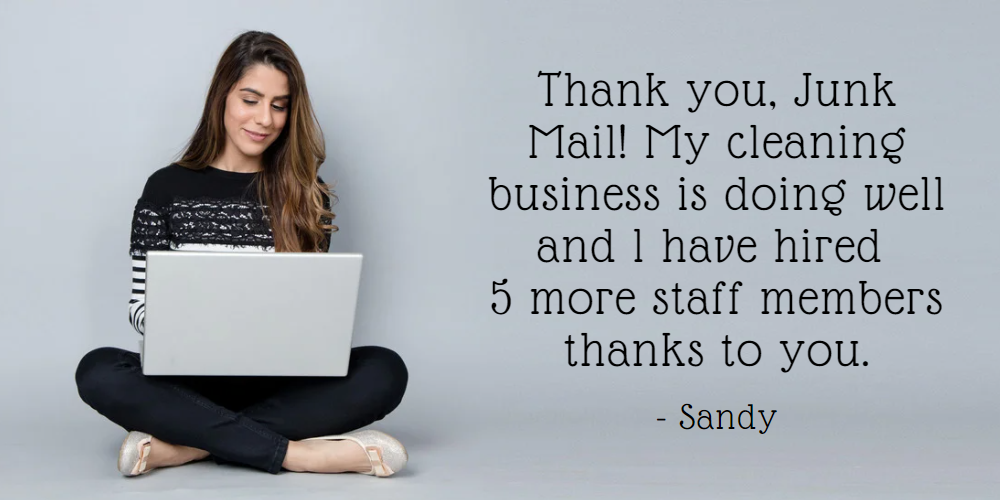 Now that you know more about the benefits of using Junk Mail Marketplace, what are you waiting for? If you are planning on selling your goods or services and want to reach a bigger audience, you should take advantage of Junk Mail's free marketing opportunities. To learn how we can assist you in growing your business, please get in touch with us today. Haven't placed your free adverts yet? Submit a free advert right now!