Mercedes Benz S Class on Junk Mail in Johannesburg
Search through the adverts in Mercedes Benz S Class in Johannesburg on Junk Mail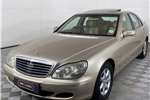 7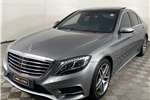 7
17
2006 Mercedes Benz S Class
R 129 900
For Sale
The "One". If you want the best life has to offer, to get true value for money, to move in comfort, get this. Call us now or visit our pristine showroom for the best car at the best price. Listed cash
EBK Auto
Add to wishlist
R 165 000 Negotiable
For Sale
9
Mercedes Benz S 350 MODEL 2005 SILVER GREY
R 165 000 Negotiable
For Sale
IN VERY GOOD CONDITION WELL SERVICED AND UP TO STANDARD. IT HAS SUNROOF , ADJUSTED SEATS, AIRCON IN GOOD CONDITION, RADIO AND CD BACK LOADER 6 CD AT THE GO IN GOOD CONDITION AND SORROUNDING SPEAKERS.
Johannesburg - South Rand
> 3 months
Add to wishlist
8
2001 Mercedes Benz S Class S500
Contact Me
Good day I have a 2001 Mercedes Benz S500 for sale. It has 169k on the clock. The car is in fair condition, as the body is straight, but the paint is faded due to age. Car has all bells and whistles.
Johannesburg - West Rand
> 3 months
Add to wishlist