Kia Pregio on Junk Mail in Gauteng
Search through the adverts in Kia Pregio in Gauteng on Junk Mail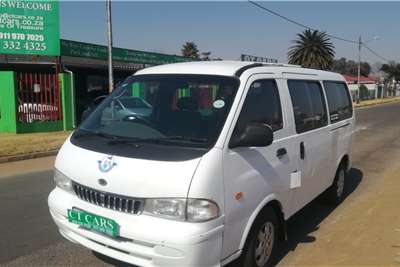 12
2004 Kia Pregio
R 70 000
For Sale
ABS,CD Player,Power Steering,Electric Windows,Air Bags,Air Conditioning,Full Service History,Central Locking.Used cars for sale in Johannesburg We Deal with All Kind Of Used Cars,Cash OR Bank Finance,
CT Cars
Add to wishlist
9
2005 Kia Pregio panel van
R 38 000
For Sale
KIA PREGIO. PAMRL VAN . 2.7 DIESEL. THE VEHICLE IS A RUNMER. STILL IN A VERY GOOD CONDITION. USED FOR ALL COMMERCIAL PURPOSES CONTACT PAUL ON 062 280 3761. 0737371003.
Johannesburg - Central
> 3 months
Add to wishlist
5
2005 Kia Pregio 12 seater
R 109 950
For Sale
2005 KIA PREGO 2.7D 12 SEATER EXCELLENT SCHOOL TRANSPORT BUSS ENGINE GEARBOX 100% GOOD RUNNER NEW TYRES WELL LOOKED AFTER GOOD MONEY MAKER R109950 NEG CALL QUINTON NOW 0832944669
Pretoria - Pretoria North
> 3 months
Add to wishlist
1
2005 Kia Pregio 12 seater
R 40 000
For Sale
DSM Current Stock - KIA Pregio 2.7 D Repair | Replace | Drive Looking for a great opportunity to express & flex your inner car restoration skills? We have a wide variety of vehicle brands to pick & ch
Johannesburg South
> 3 months
Add to wishlist
9