Honda VTX on Junk Mail in South Africa
Search through the adverts in Honda VTX in South Africa on Junk Mail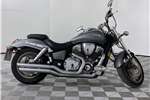 7
R 120 000 Negotiable
For Sale
2
4
Honda VTX
R 28 000
For Sale
Classic Honda Motor Cycle. Excellent condition. Licensed and on the road. 1 Owner.
Add to wishlist
9
2008 Honda VTX
R 60 000
For Sale
2008 Honda VTX 1300. R65000.00 Neg. Lady owner. Aftermarket Vance & Hines pipes, screen, leather saddlebags, spot lights and floor boards. New battery and front tyre. Services 1000km ago. Front fork s
Add to wishlist
7
2010 Honda VTX
R 70 000
For Sale
Honda vtx1800t2. Excellent condition. Vance hanes pipes. Dubble iridium plugs. Saddle bags. Very nice custom handle bars. Tyres still 100%. Extreme power.
Add to wishlist