PINTO STALION
This item has been
sold,

view similar adverts below.
Horses and Ponies on Junk Mail in Secunda
Search through the results in Horses and Ponies advertised in Secunda on Junk Mail
PINTO STALION
This item has been
sold,

view similar adverts below.
6
Arabier x boerperd
R 15 000
For Sale
Arabier x boer perd merie Gebore 2006 15.3 hh Leef buite Het FEI paspoort. Is gemicrochip Ontwurming en spuite is op datum Skop en byt nie Slegs voor skoene op Het 3 x 40km en 1 x 80 km gedoe
3
Horse for sale
R 12 000
For Sale
3 Horses for sale.1.Cleo is a mare +- 14years old and 14.5 handsR2000.2.Flicka is a mare +-8years old and 14.5 handsR5000 .3.Blade is a gelding +-8 years old he is a Arab Welsh cross.R5000
Steelbeld@plybeld conveyor beld for sale.
R 80
For Sale
We are a Conveyor Belt company with 25 years of experience in the Conveyor Belt Industry. We supply used belt for feed rooms, horse stables & lungerings at stable yards & race tracks. We also supply
3
Southern African Vlampies Boerperd
R 10 000
For Sale
Looking for a lovely Pony? Got you one!! 💚😌Belofte Vlam ( a promised Flame)💚😌 Rising 8 year old 14hh ✨Belofte Vlam is a stunning little piny who can take a rider far. He is love able and s
1
Horse paddock Bethal
R 700
For Sale
Horse paddock in Bethal. R700 per horse R1300+ food Please contact us for more info.
1
mare and filly
R 5 500
For Sale
mare and filly for sale. filly is about 2 months old .mother is 6 years filly is a cross between boerperd and stallion. make me closest offer
1
horses for sale
R 2 500
For Sale
i have over 15 horses starting from ages 1.5 years up for sale.. they are tame and make great pets esp for kids. make me an offer price neg
1
boerperd x gelding
R 8 000
For Sale
hi i have a boerperd x nooitgedacht gelding for sale he is 6yo and 15hh he soots any rider can be a bit forward going but not demanding he is soft in the mouth and loves to hack out completely bomb pr
2
1
Arabian mare
R 11 000
For Sale
Endurance prospect filly Savanna is a well behaved filly verry willing and forward going she is backed and started with basics but she is still green she is not reg but comes from a stud the dam's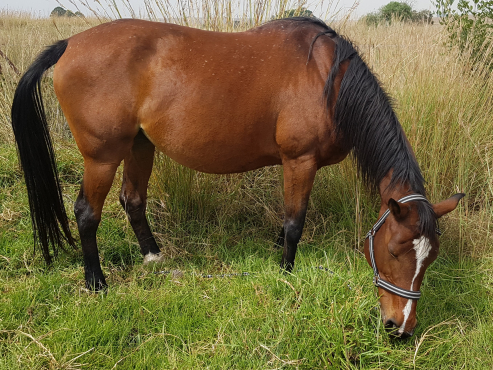 1