Weimaraner hondjies te koop
This item has been
sold,

view similar adverts below.
Dogs and Puppies on Junk Mail in Lichtenburg
Search through the results in Dogs and Puppies advertised in Lichtenburg on Junk Mail
Weimaraner hondjies te koop
This item has been
sold,

view similar adverts below.
2
Yorkies for sale
R 2 500
For Sale
2 Traditional yorkies for sale 6 weeks ready at 8 weeks old Whatsapp 0814872768
Border Collies
R 450
For Sale
Opregte skaaphondjies te koop, gebore 20 Augustus. Reuntjies en tefies Beskikbaar op 8 weke.
4
4
IRISH TERRIER PUPPIES FOR SALE
R 2 000
For Sale
IRISH TERRIER puppies for SALE. Purebred but not registered. Six weeks old and will be ready to go at 8 weeks old. Will be dewormed and vaccinated. 3 x Male Puppies 2 x Female Puppies
18
Cocker Spaniel puppies for sale
R 3 000
For Sale
We have beautiful Cocker Spaniel puppies for sale. There is 5 males and 2 females. The colors which are available are roans, white with golden spots, golden and a tri-colour. Date of birth: 16/05/2
Pikanese puppies for sale
R 900
For Sale
Beautiful pikanese puppies for sale. 9 weeks old now, had 1st injection and has been dewormed
10
Adorable Miniature Schnauzer Puppies!
R 2 000
For Sale
Purebred salt and pepper colour, inoculated, dewormed and house trained. 10 weeks old, born 3 September 2017. Very playful, intelligent and good with children and other animals. 2 x Males @ R2000.00,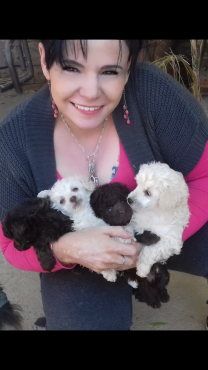 3
3
2
WEIMARANER puppies for sale!!
R 2 000
For Sale
2 Male Weimaraner puppies for sale. 10 weeks old. Very energetic, intelligent and loveable dogs. Dewormed and injections done. Looking for good homes where they will receive a lot of love and attenti
6
Biewer Yorkie Terier
R 1 500
For Sale
Twee Biewer Yorkie meisiekinders gereed vir nuwe huise. 8 weke oud, inentings en ontwurming op datum. Mamma weeg 2.5kg, Pappa weeg 2.7kg. Liefdevolste harte diewe. R1500 onderhandelbaar. Skakel of wha
5
Biewer Yorkie terier
R 1 500
For Sale
Oulikste babas gereed vir nuwe huise, 7weke oud Gereed om te gaan om 8 weke oud , ingeent en ontwurm. 2 tefies en 1 reuntjie. skakel of whatsapp asb. Corlene 0712170470
2